Jacobs' State of the County Focuses on a "Year of Transformation" for Orange County
Friday, June 6, 2014
By: Carmel Delshad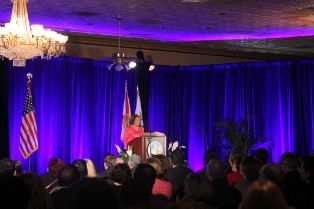 June 6, 2014 | WMFE, Orlando - Orange County Mayor Teresa Jacobs addressed a packed room of local officials and residents today during her State of the County speech.
Orange County Mayor Teresa Jacobs speaks in front of a room of over 200 officials and members of the public during her 2014 State of the County address. Photo: Carmel Delshad | WMFE
The Mayor's address focused on a "Year of Transformation" for Orange County. Citing growth in the transportation sector with SunRail, a slew of renovations to the Citrus Bowl and other reconstruction projects, Jacobs says this is an exciting time to live in Central Florida
One reason for all of these changes, according to Jacobs, is the county's desire to evolve with its growing population.
"The most important thing, is—do you love living here? Are there things to do? Do you feel welcome here, do you feel at home? And that's probably one of the neatest things that I've seen in the last 10 years, is that cultural change. People are really beginning to feel that they have roots, that they're invested, that this is home," Jacobs says.
Jacobs discussed growth in the county's tourism, tech and science sectors, harkening back to Orlando's new tagline: "Orlando—you don't know the half of it."
Jacobs also spoke briefly about the recent indictments related to the expressway authority after her address.
She thinks the board of the new upcoming regional authority will be held accountable by the public in light of the current scandal surrounding the existing authority.
"We're going to have a majority-elected board, and I do think that that is going to change—we're going to have a whole new expressway authority, thank heavens."
Earlier this week, a grand jury indicted a former Florida lawmaker, a state transportation official and a former board member of the expressway authority on misdemeanor charges of violating public meeting laws.
The indictments came hours after another former board member, Marco Pena, pleaded guilty to violating Florida's open meetings law.