Orlando Church Welcomes 35,000 Tourists Easter Day
Sunday, April 20, 2014
By: Amy Kiley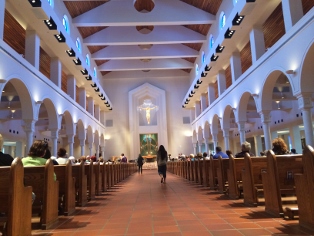 April 20, 2014 | WMFE, Orlando--A basilica near Disney Work holds eight Easter Sunday Masses to accommodate thousands of tourists.
[Basilica photo by Amy Kiley]

The Basilica of the National Shrine of Mary, Queen of the Universe hosts about 35,000 Catholics on Easter Sunday – and none are church members. Tourists started the ministry at Disney World before funding the basilica.
Director of Operations Gina Schwiegeratch says the shrine needs a tent for overflow crowds. "People from all over the world, all over the nation, gather together in one place," she says. "For that hour, you're not people from all over the world. We're a Catholic community sharing in the Body of Christ, which is amazing."
The church and tent have about 3,700 seats. Still, nearly 1,800 people stand during the busiest Easter Masses.