UPDATE: First Lady Michelle Obama Talks Up Hiring Veterans in Orlando
Thursday, November 14, 2013
By: Amy Green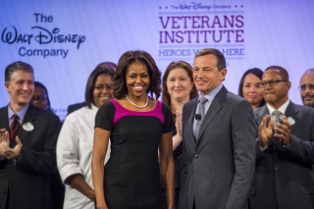 November 14, 2013 | WMFE - Michelle Obama is urging small and med-sized businesses to hire veterans. The first lady spoke Thursday at Walt Disney World's Veterans Institute, a day-long event aimed at connecting veterans with jobs.
[Photo: First Lady Michelle Obama with Robert Iger, Disney's chairman and chief executive officer. Courtesy of Disney.]
Obama pointed to the commitments of large employers such as Disney and Walmart to hire veterans.
But she said not every community has a large employer, making small and mid-sized businesses as important.
"So companies like yours can actually hire veterans where they and their families live. And remember, you don't have to be a Disney or a Walmart and hire hundreds of thousands of people to make a difference."
The first lady acknowledged a gap between military and civilian work environments.
"How do you translate all of those military credentials, those acronyms and jargon on their resumes, into civilian qualifications? And once you've got veterans on board how do you retain them?"
More than 2 million troops have deployed to Iraq and Afghanistan since the 9-11 terrorist attacks.
Michelle Obama and Jill Biden in 2011 launched Joining Forces, dedicated to connecting veterans and their spouses with jobs.
Walt Disney World's Veterans Institute drew about 500 for panel discussions on the unique skills veterans bring to the workforce and challenges that might hinder their hiring.