Sanford Residents Gather to Learn About New Neighborhood Watch Program
Tuesday, November 5, 2013
By: Amy Green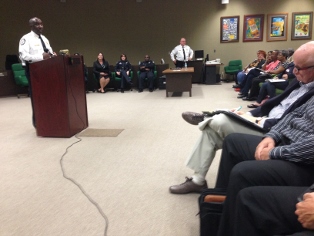 November 5, 2013 | WMFE - Sanford police are emphasizing neighborly awareness and communication with the city's revamped neighborhood watch program. Tuesday's community meeting to explain the program comes nearly two years after watch volunteer George Zimmerman shot and killed unarmed teenager Trayvon Martin.
[Photo: Police Chief Cecil Smith said he wants to expand Sanford's number of watch groups, which now is only four.]
The meeting drew a standing-room-only crowd as police presented a slide show on how to start a neighborhood watch, who can join and how they work.
Police Chief Cecil Smith spoke of the kind of neighborhoods where residents talk rather than text. He said watch members with weapons permits can carry guns but shouldn't feel authorized to use them.
"If you are doing something under the auspices of the Sanford Police Department in neighborhood watch your responsibilities are to do three things: observe, identify and report."
The new program received a positive response from many in the audience, like Gloria Baskerville-Johnson, who lives in Goldsboro, Sanford's historic black community.
"Now with the police department and the citizens coming together I believe it's going to be a good thing."
Baskerville-Johnson said she's considering starting a watch group in her neighborhood.
Peter Kovarik is involved in a watch group in Sanford. He said he understands watch members with weapons permits can carry guns but wishes they couldn't.

"Unless the stand your ground issue is resolved, and as we know it's not going to be resolved, at least here it's quite clear, so between this and armed people that's a potentially dangerous situation."
Police want to have the neigborhood watch program up and running by January.
Zimmerman was acquitted in July of second-degree murder in Martin's death.