Soccer Stadium Vote Today
Tuesday, October 22, 2013
By: Matthew Peddie
October 22nd, 2013 | WMFE- Orange County commissioners will vote this afternoon on whether to help fund a new soccer stadium in Orlando. The president of Major League Soccer flew down from New York yesterday to make a last minute pitch to the commissioners.

Orlando City Soccer wants the County to make $20 million in Tourist Development Taxes available to help build the $85 million stadium.
Major League Soccer President Mark Abbott spent Monday talking to county commissioners.
He says a new stadium is "the last piece of the puzzle" in Orlando City Soccer's bid for an MLS franchise.
"We have a strong ownership group, we have a great fan base: what we need is a stadium," he says.
"If the stadium project is successful and moves forward we'll work to finalize an agreement to bring a team here with the ownership group," says Abbott.
"I don't see any obstacles in us being able to do that."
Abbott says a new stadium and a major league team is good for soccer fans- and the local economy.
Not everyone agrees.
Lawanna Gelzer runs a childcare in Parramore, a few blocks from where the city wants to build the stadium.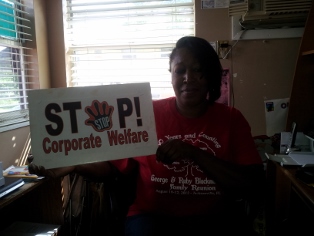 "Don't come and give me something we haven't asked for," says Gelzer.
"This community wants infrastructure, our streets repaired, our drainage repaired," she says.
"We want our homes repaired. We want code enforcement to do what they're supposed to do for our slum lords. That's what we need to focus our energy on."
Orlando City Soccer has to be certified as a major league team before Tourist Development Taxes can be released for the stadium.
Other conditions include a $40 million commitment from the team toward construction and an agreement by the club to pay for any cost overruns.