Unique Senior Dance Program Could Help Combat Brain Diseases
Friday, September 27, 2013
By: Alicia Mandigo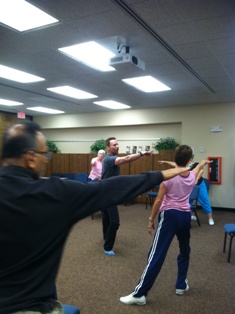 A unique dance class offered through the Rollins Center for Life Long Learning has area seniors improving their physical and mental fitness at the same time. It's called Fitness Through Motion and Imagination, and research suggests it could help people overcome brain diseases like Parkinson's.

[Rollins Center for Lifelong Learning Fitness Through Motion and Imagination senior dance class]
A half dozen seniors sweep their arms towards the ground and stretch from left to right as they "dance" imagined geometric shapes associated with their names. Carol Parker says she signed up for the new Rollins class because she used to be a dancer.
"It's paced just right, the exercise, it's not strenuous for my age, it's just been perfect, I really enjoyed it," she says.
These students are all able bodied- but Rollins Professor Robert Sherry says a dance training system developed for Parkinson's patients shows that when a dancer imagines the movement instead of just mimicking it, there's a bigger benefit.
"It creates pathways in the brain, and it actually awakens pathways in the brain when you use your imagination to move. Now the research is still out on it, but we've seen it work in our Parkinson's classes very well," he says. Sherry says the Motion and Imagination class is for any senior- because the concept can have a preventive value too.