High School Students Look to Dual Enrollment to Boost Employment Prospects
Friday, May 17, 2013
By: Elena Applebaum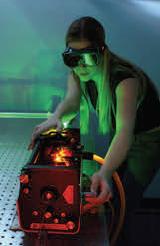 May 17th, 2013 | WMFE In Florida there's a push to prepare high school students for in-demand jobs, in fields like healthcare, finance and advanced manufacturing. Lawmakers passed legislation this year which gives 9th graders a choice between an industry focused high school diploma- and a more traditional college oriented path. The state and private companies are also promoting high school dual enrollment programs in Science, Technology, Engineering and Math, or STEM, like Wekiva High School's Laser Photonics Academy.

[Image: courtesy of Wekiva High School Laser Photonics Academy]
Emily Maddox- a student at Wekiva's laser photonics academy- says she signed up because the academy offered a college level course- for free.
"My mom heard about it during our freshman orientation and she was like- free college credit! So, we signed up for it," says Maddox.
Maddox and another student, Nick Dirocco, graduate high school this year with an associate's degree in electrical engineering technology.
He's has already been able to use his skills in the real world:
"I used my basic electronics certificate to work a contract with a local insurance company to actually diagnose some electronics after a flood-and I made a pretty penny off of that," says Dirocco.
The academy was started by Apopka based Northrop Grumman Electronic Systems, a company which builds military lasers.
Director Steven Lindauer says the company tried hiring skilled technicians from other parts of the country- but that didn't always work.
"Maybe they didn't like our warm weather," says Lindauer.
"I don't know what's wrong with them, but some of them didn't like how hot it was, so after a year when they no longer had to pay back moving expenses, they would head home," he says.
So the academy was started four years ago as a way to grow talent locally- with the help of Valencia community college and the Manufacturer's association of Central Florida.
"The program already existed at Valencia community college as an associates degree in electrical engine technology with a laser photonics focus," says Lindauer.
"So they wanted to take that and import it into a local high school."
Northrop Grumman invested $50,000 in resources for hands-on training at Wekiva high school to start the academy- now other companies are also pitching in.
Students graduate with certificates in laser photonics and engineering- qualifying them for jobs with salaries around $40,000 a year.
Pamela Nabors, president and CEO of workforce central Florida, sees potential for academies like the one at Wekiva in other fields.
"There are a lot of jobs beyond just nursing that are growing around health care, and in the life sciences," says Nabors.
"So for students to understand through dual enrollment in college classes in life sciences and college classes in life sciences as well as all the applications related to research and medical technology I think that would be another area that would benefit greatly," she says.
Nabors says advanced manufacturing and simulation need skilled workers too. Add the high unemployment rate among young people 16 to 24- and dual enrollment makes sense.
"Expose [the students] not only to the academic environment but also to some real work and real life skills help them to transition more effectively into college and or work," she says.

In April the Florida department of education gave the College of central Florida a $100,000 grant to run a statewide website as a one stop resource for dual enrollment.
Currently, just 11% of Florida's High School students are in dual enrollment programs.
Brian Voge, who coordinates the Dual Enrollment Springboard, says the state hopes to increase student participation.
"If we can train our people to be in the math and science and all those STEM programs, they can be in the higher wage jobs, and the higher the wages the more successful and affluent our whole state becomes," says Voge.

It's hoped the Dual Enrolment Springboard can be a forum for colleges and schools to share ideas and copy successful academies like the one at Wekiva.
Students like Wekiva's Nick DiRocco will also be able to search the site for a program that matches their career goals.
"I have work experience in a field that most students can really say they've worked in," says Dirocco, who adds he believes the course has given him a competitive advantage going into the workforce.

The springboard is slated to be up and running by the end of June.