Scott Joseph | Orlando Dining Innovators
Friday, October 12, 2012
By: Nicole Creston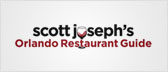 Oct 12, 2012 | WMFE - Restaurants are opening in the Orlando area that are putting new twists on old favorite dishes and dining experiences. This week, Orlando restaurant critic Scott Joseph tells 90.7's Nicole Creston about two innovators in Central Florida, starting with a Winter Park place called Hotto Potto, which is described as an Asian-style fondue...sort of.

You can find out more about Central Florida's dining options at Scott Joseph's Orlando Restaurant Guide.