Isaac Pointing Toward Gulf But RNC Still Set for Monday
Friday, August 24, 2012
By: Tom Parkinson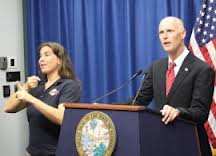 August 24, 2012 | WMFE - The most recent forecast tracks show Tropical Storm Isaac moving northwest into the Gulf late this weekend possibly crossing the Florida Keys by Sunday. Forecasters at the National Hurricane Center in Miami say the forecast path has shifted west to a track that could point the storm toward landfall along the north Florida Panhandle or near the Alabama-Mississippi border Tuesday night. But hurricane experts say it's too early to know what track the storm will follow. The Gulf Coast, including Tampa, site of the Republican National Convention, is still potentially in the storm's path.

RNC Organizers say there are no plans at this time to cancel or postpone the convention set to begin on Monday.
Florida Governor Rick Scott says he has been in contact with RNC officials and GOP presidential candidate Mitt Romney.
"I gave him assurance that this state is a state that has dealt with hurricanes in the past. We know how to deal with hurricanes. We're ready if that's what happens but hopefully it won't happen." Scott said. "We also talked about we hope to having a great convention and I'll continue to keep the RNC and Governor Romney and informed."
Governor Scott is among the Republican dignitaries scheduled to address to convention next week.
Forecasters say Isaac is expected to weaken a little while crossing over Haiti and the eastern part of Cuba. But they say it could pick up more strength as it moves toward the Gulf.